Teaching Resources
Jump Down To: Teaching Materials from Sponsored Projects | Geoscience Workshops | Help NAGT Build its Collections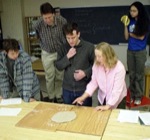 Geoscience educators at many levels need materials they can use in their classes and labs to teach important concepts and skills. As a part of its commitment to improving geoscience education, NAGT has been instrumental in fostering the development of a large number of activities and other materials to fill this need.
There are also some specialized collections of teaching resources that NAGT has sponsored: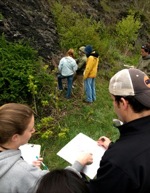 Rock and Mineral Exchange: This service from NAGT and MSA aims to bring together educators looking for samples for their classroom and others with samples available for donation or trade.


Teaching in the Field: This part of the website aims to promote models for effective educational field trips to geoscientists and provide an archive of field guides furthering the ability of K-12 teachers, faculty, community groups, and others to lead scientifically accurate, pedagogically effective field trips.

Inquiry-Based, Hands-On Educational Activities collection: This collection of activities was contributed by participants in sponsored sessions at the North Central GSA meeting and the American Geophysical Union meeting in 2005.

Volcano Exploration Project: Pu'u O'o: This workshop being held in 2010 will generate activities for using online volcano monitoring data in post-secondary geoscience courses.

Also be sure to check out the resources available for those who teach pre- and in-service teachers over at Preparing Teachers to Teach Earth Science.
Teaching Materials from Sponsored Projects
Several project which NAGT sponsors collect and disseminate teaching materials through their own websites.
Geoscience Literacies
Over the last several years, a number of efforts have been undertaken to define key aspects of the geosciences in terms of the big ideas that need to be grasped by students, the public, and policy makers. Learn more about the Geoscience Literacies here.

Geoscience Workshops
NAGT sponsors Geoscience Workshops for faculty development and resource creation.

Help NAGT Build its Collection
There are several ways you can help NAGT build it's collection of teaching materials.
Host a session at a professional meeting that collects activities and/or course materials. You can ask NAGT to be a sponsor of your session and we can provide a place to store and disseminate the materials that participants submit.

Submit a Field Trip Activity to the Teaching in the Field collection.
Submit another kind of activity to our general teaching resources collection. Share your innovative technique for helping students understand that really tough topic. Even if it's old hat to you, your colleagues across the country have a lot to learn from you.