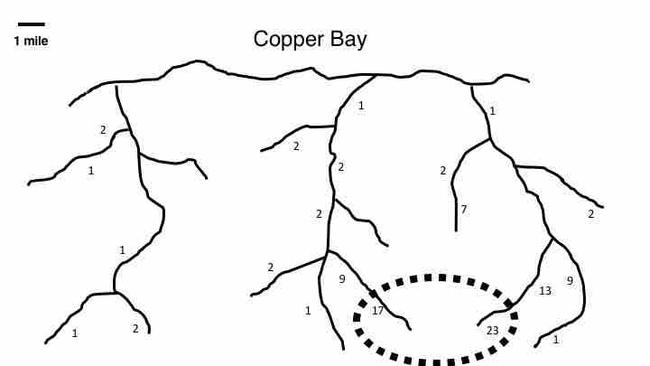 View Original Image at Full Size
Figure 4. The numbers represent the concentration of Cu in parts per million (ppm) for sediments collected from the streams in this area. All the streams flow into Copper Bay. Note the scale bar in the top left corner of the map. The circled area on the map shows the area students will identify in one of the exercise activities.
Originally uploaded in NAGT:Publications:In the Trenches:2019 - Volume 9:In The Trenches - April 2019.
Image 202185 is a 405 by 720 pixel JPEG
Uploaded: Aug29 19
Last Modified: 2019-08-29 15:43:32
Permanent URL: https://serc.carleton.edu/download/images/202185/figure_4.jpg.jpg
The file is referred to in 1 page
Provenance
Adam C. Simon and Steve Kesle
Reuse
If you wish to use this item outside this site in ways that exceed fair use (see
http://fairuse.stanford.edu/)
you must seek permission from its creator.