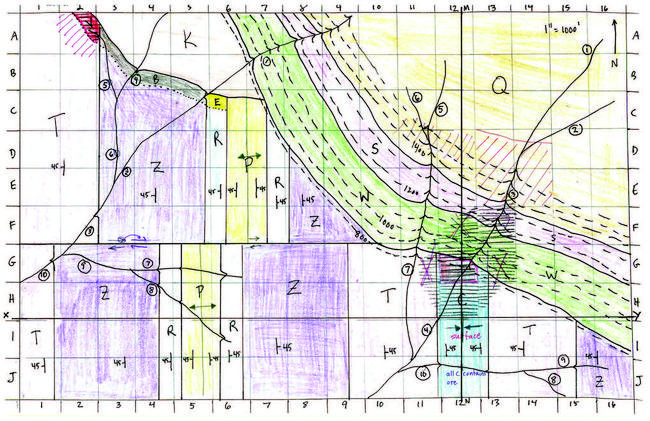 View Original Image at Full Size
A typical project map from the Ore Exploration Game. Letters on the map are keyed to a set of hand samples. Circled numbers along rivers are sites for which stream sediment assays may be purchased as part of mineral exploration in Week #2. Numbers and letters along the sides function as a bingo-like grid, allowing students to designate squares of land both for surface surveys in Week #2 and for placing bids at the end of the project. Students add fold symbols and fault U's and D's, and show surface ore in solid red and concealed ore with stripes.
Image 36006 is a 1319 by 2038 pixel JPEG
Uploaded: Oct25 12
Last Modified: 2012-10-25 08:40:09
Permanent URL: https://serc.carleton.edu/download/images/36006/project_map.jpg
The file is referred to in 1 page
Provenance
Beth Z. Lincoln, Timothy N. Lincoln, Thomas I. Wilch, Carrie A. Menold, and Michael W. McRivette, Albion College
Reuse
This item is offered under a Creative Commons Attribution-NonCommercial-ShareAlike license
http://creativecommons.org/licenses/by-nc-sa/3.0/
You may reuse this item for non-commercial purposes as long as you provide attribution and offer any derivative works under a similar license.