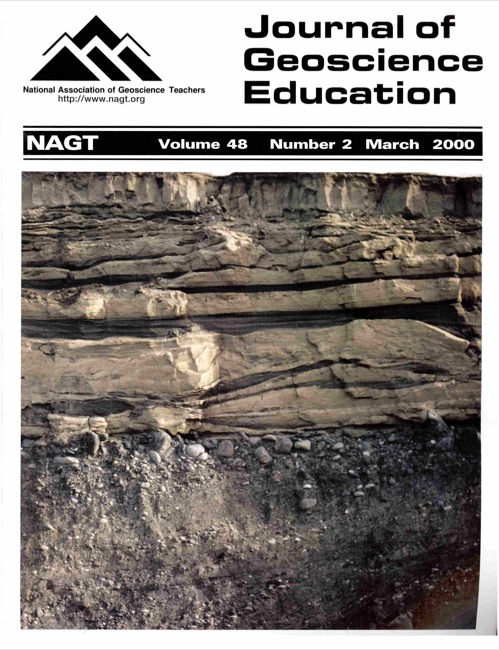 View Original Image at Full Size
Juxtaposed record of two catastrophic flood events near Lewiston, Idaho. Sand, silts, and clays from the Missoula floods overlying Bonneville flood gravels at a gravel pit approximately one mile from the entrance to Hell's Gate State Park along the Snake River near Lewiston, Idaho. The concentration of large cobbles at the top of the Bonneville represents a "lag deposit" created when the initial surge of Missoula floodwaters flowing up the Snake River carried away finer sediments producing a disconformity. The largest boulders in the lag gravel are about 10" in diameter. The lighter colored Missoula sediments consist mostly of silts and clays of the Palouse Loess that were stripped from the eastern Columbia Plateau of Washington following the collapse of the glacial Lake Missoula ice dam near the Idaho-Montana border. The darker, lens-shaped Missoula layers consist of coarser grained, primarily basaltic sediments associated with streams which criss-crossed the area during and following the withdrawal of Missoula flood waters. The older Bonneville flood gravels constitute a prograded, subaqueous bar associated with flood waters also flowing up the Snake River Canyon following overflow of Utah's Lake Bonneville at Red Rock Pass along Idaho's southeastern border with Utah. The Bonneville sediments consist of a wide range of lithologies representing the terrains drained by the Snake River but dominated by basalts.
Image 12790 is a 3292 by 2528 pixel JPEG
Uploaded: Aug18 08
Permanent URL: https://serc.carleton.edu/download/images/12790/jgemar00cover.jpg
The file is referred to in 1 page
Provenance
Photo by Larry E. Davis, College of St. Benedict/St. John's University, Collegeville, MN.
Reuse
This item is offered under a Creative Commons Attribution-NonCommercial-ShareAlike license
http://creativecommons.org/licenses/by-nc-sa/3.0/
You may reuse this item for non-commercial purposes as long as you provide attribution and offer any derivative works under a similar license.