Systems, Society, Sustainability and the Geosciences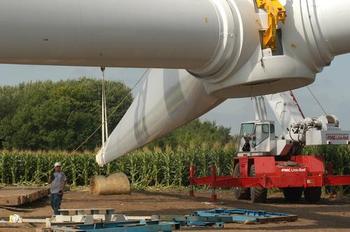 Construction of a wind turbine at Carleton College. Read more about Carleton's wind turbines.
July 24 - 26, 2012 - Carleton College, Northfield, MN
This workshop has already taken place. See the workshop synthesis and outcomes and materials derived from the workshop.
Sustainability is emerging as a central theme for teaching about the environment, whether it be from the perspective of science, economics, or society. This workshop is for undergraduate faculty from all disciplines who are interested in a stronger integration of geoscience and other perspectives in teaching sustainability. We encourage applicants from the geosciences as well as other natural and social sciences, humanities, and engineering.
The workshop will include a combination of plenary talks, panelist presentations, discussions and time for networking and collaboration. Workshop participants will share successful strategies and materials for teaching sustainability. An important outcome from this workshop will be to identify opportunities where new curricular materials will have a major impact on integrating geosciences into the teaching of sustainability.
This workshop is open to 30 people (by application) and there is no registration fee to attend. Workshop stipends are available to help defray travel expenses in cases of financial need. Accepted participants are expected to contribute teaching materials to a new web-based collection devoted to the interdisciplinary teaching of sustainability.
Learn more
about this workshop.
Workshop Conveners
David Gosselin, University of Nebraska-Lincoln
Jean MacGregor, The Evergreen State College
Cathryn Manduca, Science Education Resource Center at Carleton College
Rick Oches, Bentley University

Join the Discussion
Read the email list discussion, join the email list or unsubscribe using the Systems, Society, Sustainability, and the Geosciences email list.
This workshop is part of the InTeGrate project for interdisciplinary teaching of geoscience for a sustainable future. InTeGrate is a 5-year, National Science Foundation (NSF) STEP Center grant, running from 2012 through 2016. This work is supported by a NSF collaboration between the Directorates for Education and Human Resources (EHR) and Geociences (GEO) under grant DUE - 1125331. Learn more about this project.